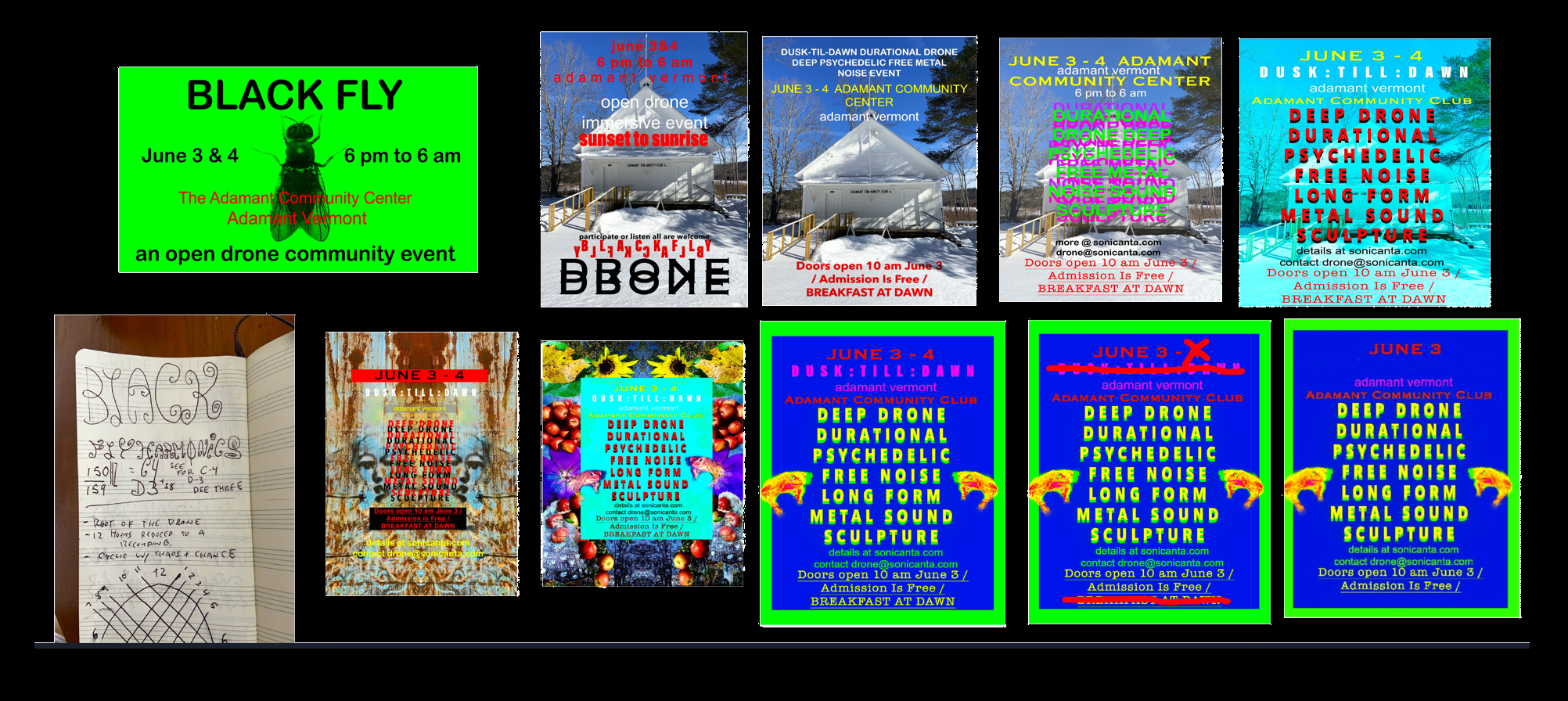 Tomorrow, June 3, from 6 pm until 10 pm at the Adamant Community Club in Adamant, Vermont, just up past the crossroads near Sodom Pond at 1161 Martin Ave. -- you'll want to Google this before you get there since the signals are so sketchy in that area -- there will be a Deep Drone Durational Psychedelic Free Noise Long Form Metal Sound Sculpture and you are invited. 
The event is free of charge and participation is open to the public. 
As some of you have likely heard, there were a few last minute major setbacks -- such as the performance time being drastically slashed from 12 to 4 hours due to certain sonic concerns --- but the intention to stay the course -- winning heart and minds and ears in the process -- moves forward. 
While some have dropped out others have joined in. The configuration of the drone work is in play but the structure of the work is known: four hours of process based sound / images / sculpture and all the directions that can go. 
All in a unique venue which has likely never hosted an event of this sort before. So kindly be respectful of the animals, plants, people and the land. 
If you have questions kindly reachout via drone@sonicanta.com, an email which has been set up to coordinate this event.

ATTENTION : 
DUE TO RECENT SONIC ORIENTED CONCERNS FROM MEMBERS OF THE ADAMANT COMMUNITY, THE JUNE 3 DEEP DRONE DURATIONAL PSYCHEDELIC FREE NOISE METAL SOUND SCULPTURE EVENT AT THE HISTORIC ADAMANT COMMUNITY CLUB WILL NOW RUN FROM 6 PM TO 10 PM ON JUNE 3. 
IF YOU PLAN TO ATTEND PLEASE BE RESPECTFUL OF THE LAND AND THE PEOPLE WHO LIVE THERE.
WE APOLOGIZE FOR ANY INCONVENIENCES THIS CHANGE MAY CAUSE.
WE ALSO PROMISE THIS WILL BE A SHOW NOT TO MISS.
SEE YOU THERE.
_______________________________________________________________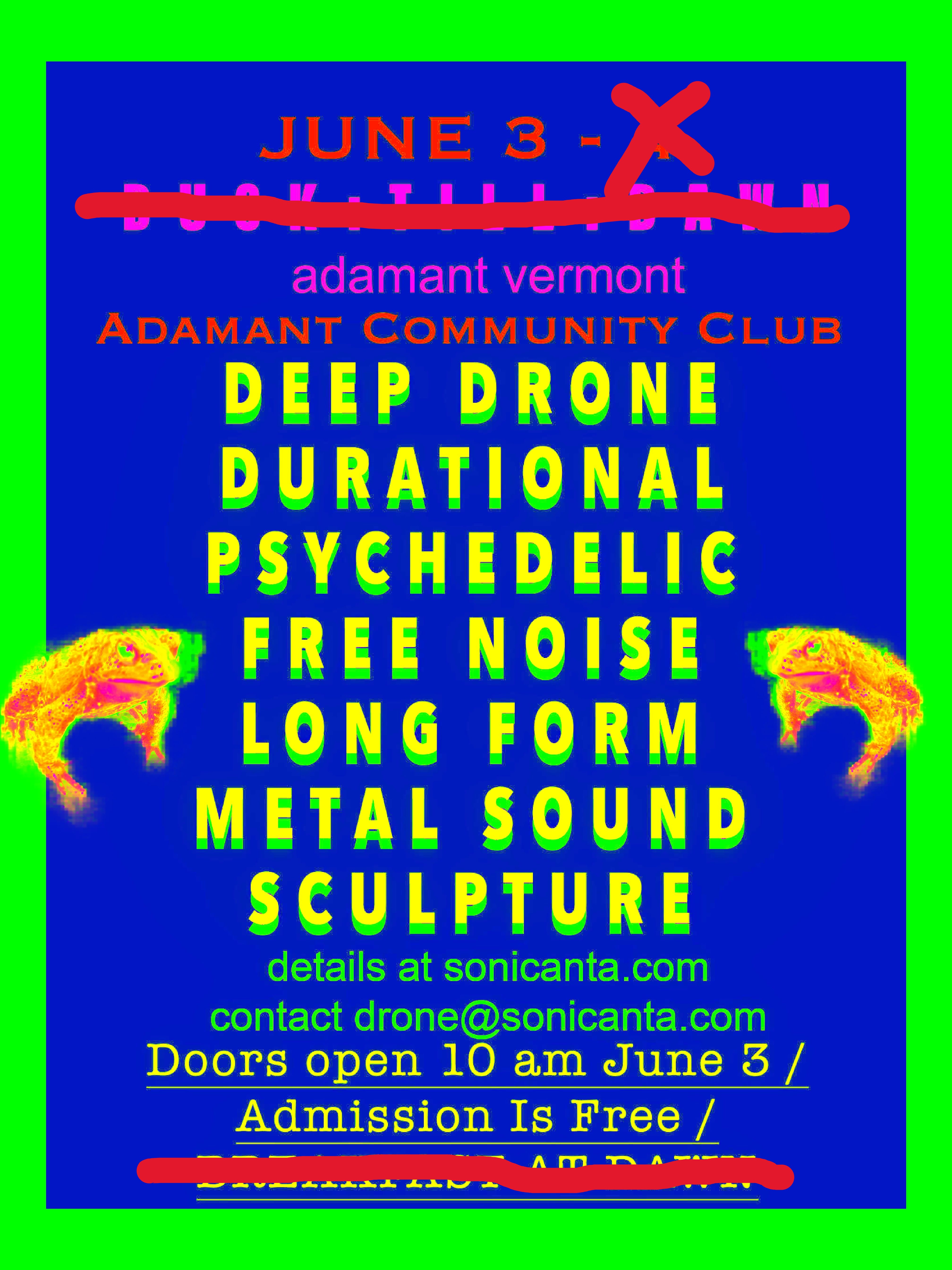 _________________________________________________________________________________________________________________________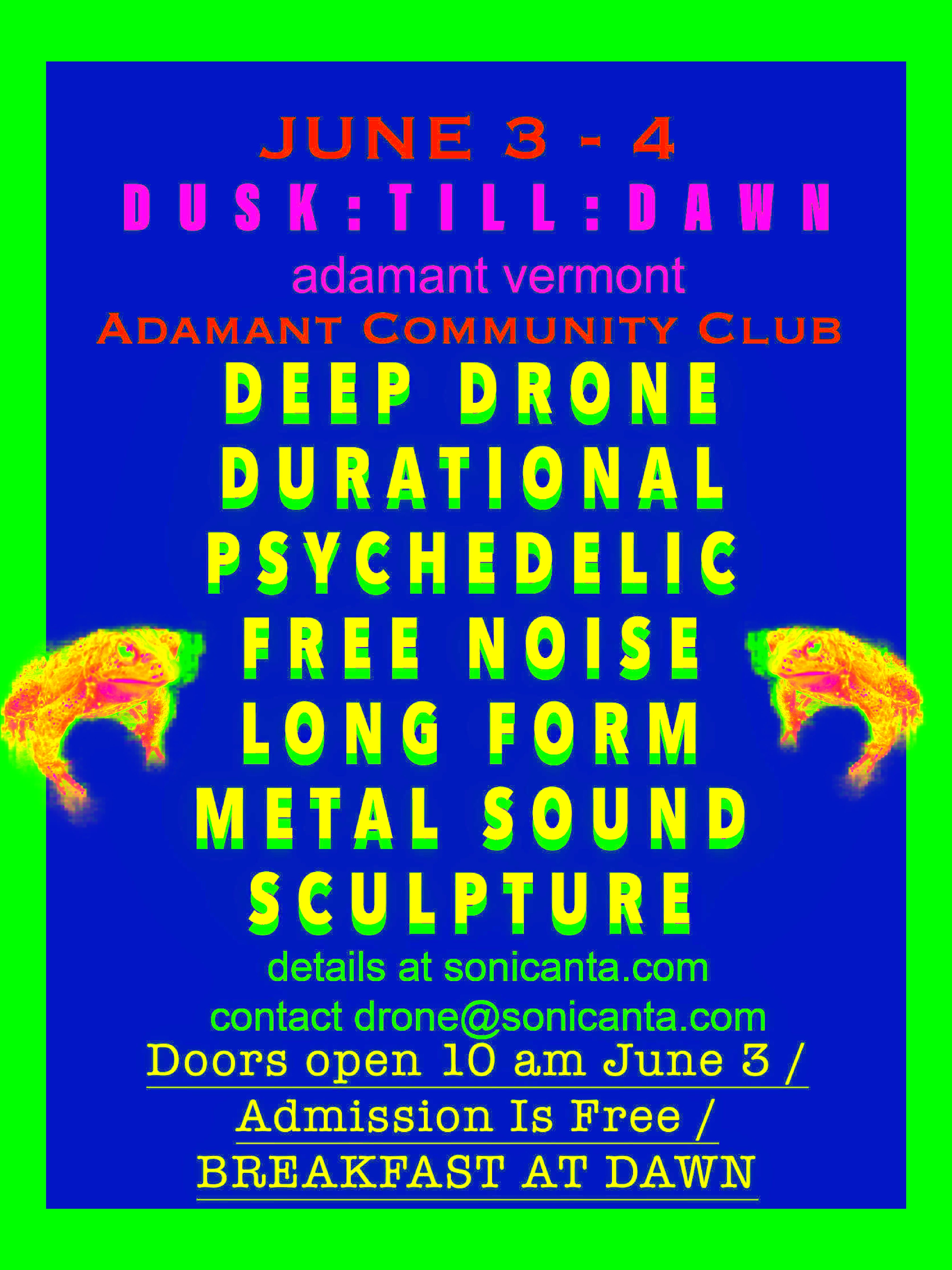 Winter here in Vermont is melting back into the earth. 
The snow if mostly gone. Water flows. Plants leaf out. There's bears and foxes roaming the forest. And in a month the deep drone, long form, durational psychedelic free metal noise sounding at the historic Adamant Community Club in Adamant, Vermont on June 3/4 will be underway. 
There is no charge for this event and participation is open to all at any time. 
Play for an hour, take a sound walk, come back and listen, play some more. 
However the spirit moves you to participate, absorb, or engage its all good. 
If you do plan to participate in the performative part, please reach out at drone@sonicanta.com so we can plan for a merch section if you want to sell goods and get an idea about what you may need for power etc. 
Doors will open at 10 am on June 3. 
The music will begin at 6 pm on June 3 and end at 6 am on June 4. 
Breakfast will be served around dawn. 
The wetlands and forests surrounding the Community Club are full of natural music this time of year. 
Birds, amphibians, mammals, wind, water, plants, all provide a transitive chorus throughout the day and night. 
Before, after, and during the performance there are wonderful places for soundwalks, hiking, swimming all in the immediate vicinity or a short distance away. 
There will also be an almost full moon illuminating the landscape. 
And there will be a Black Fly Festival and parade during the day in Adamant on June 3 if you want to come early.
This will be a unique opportunity to engage with a beautiful space and long-form performance.
Bring food to share to share. Bring instruments and open ears.
Hope you can make it.
Stay tuned,
Glenn

IN A NUTSHELL
• On the morning of June 3 :
• 10 am Doors open at Adamant Community Center -- set-up/ unloading/ arriving begins
• 6 pm The drone emerges – all are welcome to join or leave at any point they wish
• On the morning of June 4 :
• 6 am The drone is complete
• Breakfast